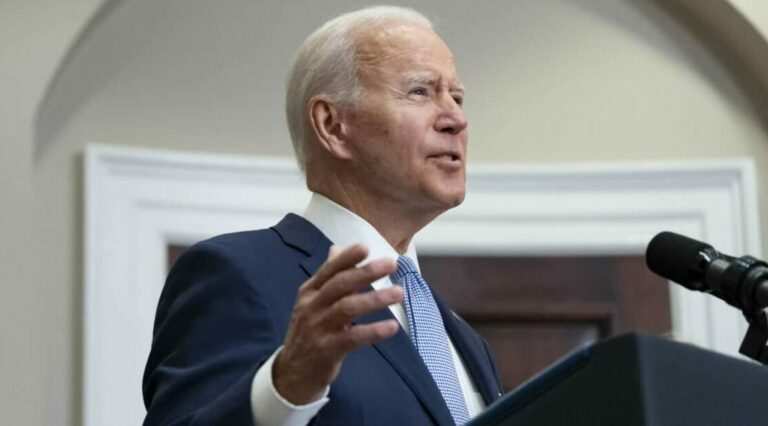 This article was originally published by Radio Free Asia and is reprinted with permission.
Australia will buy up to five U.S. nuclear-powered submarines with delivery by the "early 2030s," and then switch to British submarines by the end of that decade, according to a deal unveiled by the leaders of Australia, the United Kingdom and the United States on Monday.
Meeting in San Diego, California, under the auspices of the AUKUS security pact announced between their nations in 2021, Australian Prime Minister Anthony Albanese, British Prime Minister Rishi Sunak and U.S. President Joe Biden said the deal was the best way they could find to provide Australia the submarines as fast as possible.
The deal will involve Australia purchasing three Virginia-class submarines from U.S. shipyards with the option to buy two more, Albanese said at the event. At the same time, Australia will begin building its own submarines with help from the United Kingdom.
"This will be an Australian sovereign capability, built by Australians, commanded by the Royal Australian Navy and sustained by Australian workers in Australian shipyards, with construction to begin this decade," Albanese said, adding that it would create 20,000 jobs.
"Our future security will be built and maintained not just by the courage and professionalism of our defense forces," he added, but by all involved, including engineers and welders. "For Australia, this whole-of-nation effort also presents a whole-of-nation opportunity."
Nuclear-powered, not nuclear-armed
For the first time, the deal will deliver Australia access to nuclear-powered submarines, with the energy source allowing the vessels to stay at sea for months at a time without the need to refuel. But the vessels will be equipped only with conventional weapons, with Australia over the decades deciding against building nuclear weapons.
"I want to be clear to everyone," Biden said, "these subs are [nuclear-] powered, not nuclear-armed subs." As a signatory to the Nuclear Non-Proliferation Treaty, Australia is "a proud non-nuclear-weapon state," he explained, "and is committed to stay that way."
Australian personnel will embed in U.S. navy-building yards as part of the sale, Biden said, and existing American submarines will carry out more frequent rotations to Australian ports "to make sure Australian sailors are fully trained to prepare to safely operate this fleet."
"Already today," Albanese said, "there are Australian submariners undergoing nuclear power training in the United States, and I'm proud to confirm, Mr. President, that they are all in the top 30% of their class."
Sunak said the deal would create "thousands of good, well-paid jobs in places like Barrow and Derby" in the United Kingdom while sharing "knowledge and experience with Australian engineers so they can build their own fleet," and create a tight bond across AUKUS.
"We represent three allies who have stood shoulder-to-shoulder together for more than a century, three peoples who have shed blood together in defense of our shared values, and three democracies that are coming together again to fulfill that higher purpose," he said.
A French exit
The announcement comes after months of to-and-fro, with key U.S. congress members suggesting Australia would not be able to purchase U.S.-made submarines given huge backlogs at American shipyards.
Last year, Rep. Rob Whitman, a Republican from Virginia who was then his party's highest-ranking member on the House Armed Services Committee, said Canberra would not be able to jump the queue to buy America's most cutting-edge submarines while the U.S. Navy waits.
"There's been a lot of talk about well, the Australians would just buy a U.S. submarine," Whitman said Dec. 5. "That's not going to happen."
The Virginia-class submarines being sold to Australia, though, are not "clunkers" and are of the "highest quality," Rep. Joe Courtney, a Democrat from Connecticut and the chairman of the bipartisan "AUKUS caucus", told ABC Australia over the weekend.
"The shelf life of a Virginia Class submarine is 33 years," he said. "No one is going to be foisting off clunkers on good friends and allies."
It's the culmination of a multi-year process that began with Albanese's predecessor, Scott Morrison, scrapping a deal made with a French naval builder to sell Australia conventionally-fueled submarines.
Morrison said at the time he feared the vessels would be outdated by the time they were delivered, but it turned into a diplomatic crisis after French President Emmanual accused Morrison of lying to him.
Albanese's government last year agreed to pay the French company about $583 million in a settlement for the scrapped contract.
A fact sheet distributed by the White House in the lead-up to the event highlighted what it said was "unmatched safety records" of the U.S. and U.K. nuclear-powered submarines Australia was obtaining.
"For over 60 years, the United Kingdom and United States have operated more than 500 naval nuclear reactors that have collectively traveled more than 150 million miles – the equivalent of over 300 trips to the moon and back – without incident or adverse effect on human health or the quality of the environment," the document said.
"Australia is committed to upholding these same standards to safely steward naval nuclear propulsion technology," it said.
Eyes on China
Biden, Albanese and Sunak did not directly mention China's posturing in the Indo-Pacific region during Monday's event, and instead focused on what they said were the ties that bound their three countries.
The U.S. president called Australia and the United Kingdom "two of America's most stalwart and capable allies" and said "our common values" and "shared vision" were the driving force behind AUKUS.
But the 18-month-old security pact is widely understood to be aimed at deterring Beijing's threats to invade Taiwan and take control of the South China Sea, which it claims as territory.
Charles Edel, a senior adviser and the Australia chair at the Center for Strategic and Independent Studies in Washington, said in a call with reporters on Friday that the deal aimed at "convincing Beijing that it's no longer operating in a permissive security environment."
"The larger significance of the announcement, though, is not just submarines, but the strategic convergence we're seeing between Australia, the United Kingdom, and the U.S., particularly in the context of increasing tensions between China and Russia," Edel said.
"In a narrow sense then AUKUS is a trilateral partnership that's meant to enhance the defense capabilities of the three nations involved," he added. "But in its broader significance is the intentionality to drive technological integration, grow the industrial capacity, and deepen strategic coordination between all three countries."
The deal was welcomed by Republicans in Congress, with Sen. Jim Risch of Idaho, who serves as the party's ranking member on the Senate Foreign Relations Committee, saying it was a positive first step for the Biden administration in projecting power to Beijing.
"The Indo-Pacific faces a direct threat from China, and there is nothing more important than deterring Chinese aggression and making it hard for [Chinese President] Xi Jinping to achieve his goals," Risch said in a statement on Monday.
But for Australia, it's also about the nuclear-powered submarines.
"This is a very big day for Australia, and it's a good day," Albanese had said on Sunday morning, according to The Age. "A new dawn in San Diego, and a new dawn for Australia's defense policy."
As reported by American Military News