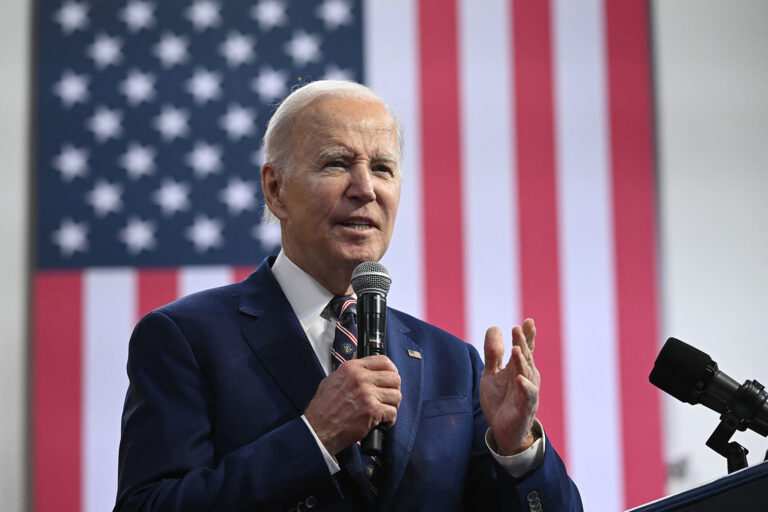 Before President Joe Biden got into the substance of his budget speech in Philadelphia on Thursday, he had a warm personal message for Sen. John Fetterman.
"John, if you can hear this at all, we're with you, pal. We're with you," Biden said as he began his address, drawing cheers from the Democrats and laborers in the audience.
The moment came at the start of Biden's visit to the Finishing Trades Institute in Northeast Philadelphia, where the president laid out his budget and tried to set the stage for both his coming clash with Republicans over the national debt limit and his own likely reelection campaign.
Fetterman, Pennsylvania's freshman Democratic senator, is hospitalized while seeking treatment for severe clinical depression and is largely staying away from news and social media.
The senator, according to aides, has been making progress since checking into Walter Reed National Military Medical Center on Feb. 15, and they hope he can return to work within weeks.
In the meantime, his staff is trying to show that, even from a distance, Fetterman remains engaged with his work — including with a statement and series of questions he submitted to a Senate hearing Thursday on the Norfolk Southern derailment that has affected a swath of Western Pennsylvanians.
"My hope is that we answer this disaster caused by egregious negligence from Norfolk Southern with real policy solutions that will hold Norfolk Southern and other similar companies accountable while making American families safer in the future," said Fetterman's statement in part, pointing to a bipartisan rail safety bill he has cosponsored with senators from Pennsylvania and Ohio.
Sen. Tom Carper, D-Del., the chairman of the Senate Committee on Environment and Public Works, read a portion of Fetterman's statement at the hearing and then read out Fetterman's questions to Norfolk Southern CEO Alan Shaw.
The questions asked if Norfolk Southern would support the rail bill and if the company's "inconvenience stipends" for families would include those in Pennsylvania. Fetterman also asked if Pennsylvania authorities were properly notified after the derailment.
Shaw, the CEO, wouldn't commit to supporting the legislation, saying, "We are committed to the legislative intent to make rail safer."
He said that the company's financial assistance has aided more than 4,400 families, including in Pennsylvania, and that it announced $7.5 million in assistance to Pennsylvania families this week, calling that amount "just a down payment."
Shaw also said Norfolk Southern followed Department of Homeland Security protocols after the derailment, alerting the Environmental Protection Agency's National Response Center, "which then contacted applicable federal, state, and local authorities."
Fetterman's chief of staff or senior adviser meet with him for about an hour nearly every morning at Walter Reed, bringing him information and seeking his input, according to aides.
___
© 2023 The Philadelphia Inquirer
Distributed by Tribune Content Agency, LLC.
As reported by American Military News